Design is something we pride ourselves on. It does not take a lot of effort to churn out an incomplete and muddled interface. It does take months of planning to churn out a consistent, elegant, and powerful interface though. Several key components make up apnscp esprit. We'll give you a breakdown of what creates what and how it is controlled. First, we'll begin with the login facility.



Login Facility:
Problem: apnscp is built upon Ensim WEBppliance. To put it bluntly, Ensim is an abomination. Cluttered pages strewn about a cluttered and buggy dashboard, accessed via a cluttered login screen. There are four separate login locations. Each for the main administrator, reseller, domain administrators, and sub-users of a site.

Depending upon the role you would like to assume, you have four separate locations to normally login to: /admin/, /reseller/, /admin/, and /user/ for each role respectively. /admin/ redirects to either the primary administrator or the "Site Administrator" as it's called depending on where you access the login redirect. Sounds a little confusing, huh?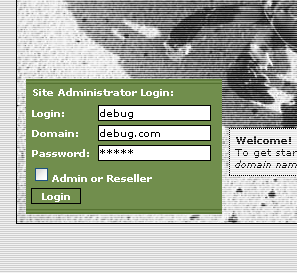 Solution: We consolidated the login interface to just one page. Just plug in the username you would like to login as; your domain name, if applicable; and the account password. Once you click login though, the magic begins. Underneath, the system scans through the listing of users and assigns a permission role to the current login session.

Once it has established the proper role of the user, a cURL session is setup to simulate logging into the Ensim WEBppliance control panel. That is right: seamless interoperability between the two. This also gives us the chance to borrow what pages still work in Ensim's system and combine it with our own customized creations.

No longer do you have to memorize forty-thousand different locations, just one location will suffice — it's that easy!



Dashboard:
After logging in, you're greeted with the dashboard for your account, but before we go into what is embedded into the dashboard, let's take a look at the template engine that powers it.


Is that all? Of course not. Look forward to another installment coming soon exploring how we implemented a new server news layout, our graphing class, SOAP, the differences between Ensim's dashboard and esprit's dashboard, and the source of inspiration.